Monday, April 25
My dear Housewyfe, I haven't forgotten your query. I didn't want to rush it, but here's my expose on my toybox, or at least the vibrator section. My husband usually does the shopping, he just searches prices and types online (we search: sex toys canada). The looking itself usually leads to some fun in the bedroom...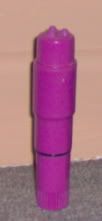 This was my first vibrator, I mean "finger massager." My husband, then my boyfriend, got it for me, actually quite early in our relationship. It's quite short, hard plastic, and quite a loud vibration. I was really surprised when he got it - we didn't use it very much, I don't think, but the thought was there, and it certainly set the tone for a wonderful, buzzing relationship.




This was the next one, purchased for me after we got married. High points - the greatest texture; quiet; lovely little vibration. Low points - AA batteries leave us scrounging for power at the most inopportune times; on/off switch is a little awkward, especially when slippery; supposed to use with waterbased lube (since silicon and silicon just don't mix - or so they say...)



This vibrator was purchased once we realised how utterly superior silicon lube is to waterbased lube. Maybe one of these days I'll do a post on our favourite lubricants. For now, suffice to say Eros is exquisite. High points - hard plastic mean silicon lube is ok. Low points - hard plastic means it makes my pussy a little tender if I use it too much.



Take a moment ladies, soak in the glory of the Beyond 2000 , queen of all vibrators. If your husband loves you enough to get you one of these... well, that's true love. This vibrator has beads that rotate inside you, at the same time as the panther (see his little paws? They are sheer bliss!) stimulates your clit. High points - lots of stimulation, it's nice to have something inside and clit vibrations. It's utterly orgasmic. Low points - it's extremely battery heavy. 4 AA's, and they need to be fully charged up to go. It's not waterproof like the others, but is easy to clean up. It's much wider than my other vibrators, sometimes, if I'm not warmed up enough, it's a little too wide, especially with those beads a'rotatin'. I wasn't supposed to see the receipt, but I think it's pretty pricey.


So that's the story of my vibrators. Some day we'll delve a little deeper into the toybox. Let's hear it friends, what's your favourite toy?
posted by claire ~ 10:32 p.m. |